INTERVIEWING CLIFF MAUTNER FOR 'NIKON OWNER'
The personal and professional journey of one of the world's most acclaimed wedding photographers ● 15/10/2016
BY ROBERT FALCONER
Late last year, yours truly was privileged to spend a few hours interviewing New Jersey-based wedding photographer, Cliff Mautner, a shooter, who, if you've had any exposure to the wedding photography industry, or WPPI, needs no introduction. He's one of the world's consummate wedding photographers, producing images of timeless beauty, in no small part due to his excellent grasp of light and all the moods and textures it can convey. If you feel so inclined, you can find excellent instructional videos from Cliff over at KelbyOne.
The interview was set up for the second in my 'Masters of Light' series — undertaken in my capacity as contributing writer/editor for Nikon Owner magazine — showcasing the work of Nikon Ambassadors globally. A lot of planning and research goes into this series, so they'll probably only appear sporadically (when I can find the time out of my own shooting schedule).
What follows below are the opening graphs that introduce the interview. To read the entire piece, you can subscribe to Nikon Owner magazine here.
"Shadow is canvas, light is paint." Much more than just a simple aphorism, it's potentially a revelatory "ah-ha" moment for many fledgling photographers. The expression was coined by celebrated wedding photographer, Cliff Mautner, and it's a technique he not only demonstrates with his extraordinary images, but that he also teaches to his many international workshop students each year.
A Nikon USA Ambassador, Cliff's photographic career began in the Philadelphia region in the early 1980s, first as a photographer with small local newspapers, and then as a photojournalist with The Philadelphia Inquirer for 15 years.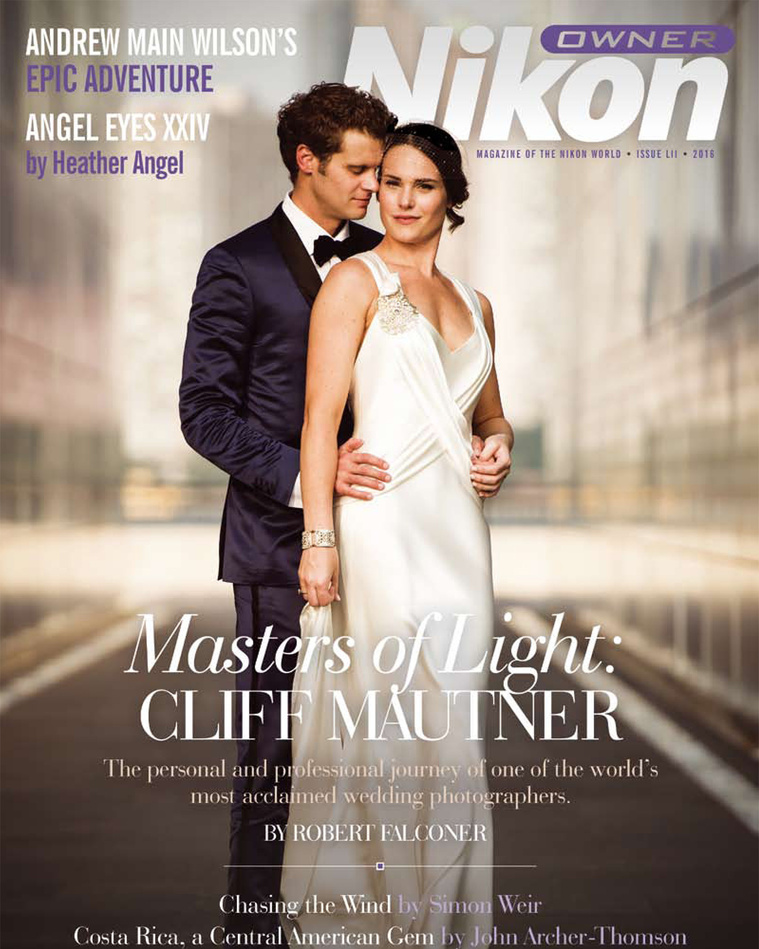 In the annals of American journalism, the Inquirer was notable for garnering multiple Pulitzer Prizes, and during the 1970s and '80s contained a stable of award-winning photojournalists that included Larry Price, Sara Leen and Ron Cortes ― all of whose work was influential in helping shape the early years of Cliff's career.

Later transitioning from photojournalism into commercial work, and then finally into wedding photography, Cliff is a long-time Nikon devotee, beginning with the FE SLR of the late 1970s. In more recent years, his ambassadorial duties with Nikon led him to be chosen as one of a select group of photographers to shoot the global campaign for the D800.
He has been voted one of the top ten wedding photographers in the world by American Photo, is a two-time WPPI Grand Award Winner for Photojournalism, an IPC-United Nations Leadership medal recipient, and a 2014 WPPI Lifetime Achievement Award recipient.
Photograph of Cliff Mautner by Susan Stripling Mautner.
To visit Cliff's website, click here.
To learn more about the magazine, visit: http://www.nikonownermagazine.com/