INTERVIEWING JOE MCNALLY AND SYX LANGEMANN FOR 'NIKON OWNER'
Two generations of indefatigable Nikon shooters discuss their careers and the trials and jubilations of being a professional photographer ● 23/11/2015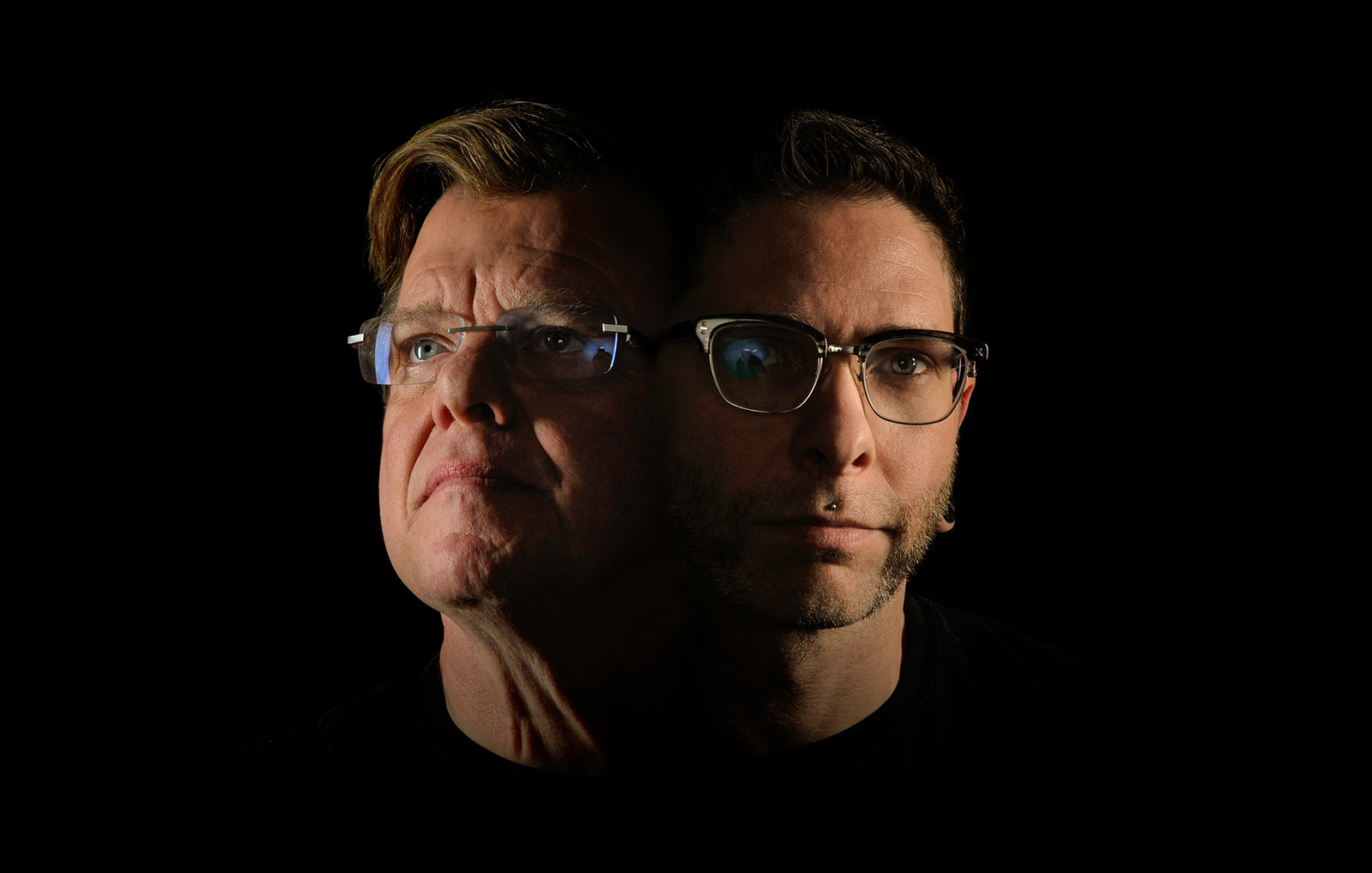 BY ROBERT FALCONER
In 2014, yours truly sat down to chat at length with renowned photographer Joe McNally, one of the true modern masters of this crazy thing we do with light and shadow and form and substance (substance if we're lucky).
The interview was for my inaugural 'Masters of Light' feature, a new article series for Nikon Owner magazine. Joe seemed like a natural fit to kick off this series, and together with a parallel interview featuring Canadian photographer Syx Langemann — a friend of Joe's — the two were featured on the cover of Issue XLVII.
The interview took place in Vancouver while Joe was here conducting an advanced lighting workshop at IronWorks Studios.
I also shot the cover, which you can see below, and after some Photoshopping with Syx, elected to blend the two photographers together as a kind of loose homage to Joe's 1992 photograph of actor Steve Martin for LIFE magazine, in which he photographed the thespian twice and combined the two images into a collage representing the time-honored masks of comedy and tragedy.
For the image, Joe and Syx were shot, seated separately, each lit individually with a single 24″ Lastolite Easybox Hotshoe Softbox on an Avenger stand. Seating positions were precisely and identically set up ahead of time to ensure that the blending would be as seamless as possible. For Joe, softbox was to his right, for Syx, to the left. Simple as that. Blending was accomplished in Photoshop.
A big thank you to both these talented photographers for participating. Below is how the article kicks off; a few pages from the magazine are interspersed (Nikon Owner magazine images below © 2015 Joe McNally)...

Celebrated photographer Alfred Eisenstaedt once said that every professional photographer should remain always in his heart an amateur; an astute observation that reminds us the craft is as much about maintaining curiosity as it is about mastering technique.
Two contemporary photographers who have embraced this philosophy in their own individual ways are Joe McNally and Syx Langemann. For more than two decades, both photographers – from consecutive generations – have been framing the world around them with distinctly personal styles; in Joe's case as a veteran photojournalist and commercial photographer, and in Syx's case as a portrait, nude, and fine art photographer. The two met in Vancouver in 2005 when Joe was conducting workshops, and though hailing from entirely different backgrounds, quickly developed an appreciation for each other's work, artistic approach, and visual styles, and have subsequently remained friends ever since.
In this special double interview, we sit down with both photographers to talk about their individual career paths and the importance photography has held in their lives.
We begin with Joe McNally, a name many already recognize from his remarkable body of work to his long association with Nikon. With over thirty years experience as a professional photographer, Joe has shot assignments for such varied entities as National Geographic, TIME, LIFE, Sports Illustrated, FedEx, Sony, and Nikon – to name but a few – in a career that has taken him around the world. American Photo magazine has described him as "perhaps the most versatile photojournalist working today" and listed him as one of their 100 Most Important People in Photography. Meanwhile, he has also been named a Nikon Legend Behind the Lens, and serves as a Nikon USA Ambassador. His work has often appeared in the pages of Nikon product literature, from the F90/N90 series of cameras up to the D3 and D4, while his large-scale manipulation of light using Nikon Speedlights has become almost legendary in the annals of flash photography.
One of Joe's most publicized projects is Faces of Ground Zero. Shot within weeks of September 11th, 2001, his stirring portraits represent an emotional pictorial of New Yorkers who showed extraordinary courage both during, and immediately following, that dreadful day. The images are also intrinsically remarkable for the way in which they were captured. Joe used a giant Polaroid camera, known as Moby C – an enormous bespoke instrument invented by the late Edwin Land (founder of Polaroid) that is 12 feet high, 12 feet wide, 16 feet long, and produces highly detailed life-size images in about 90 seconds.

Joe has also authored three popular books about photography, The Moment It Clicks, The Hotshoe Diaries, and Sketching Light, and is known for being an active educator. When not on assignment, he and his team conduct global workshops and seminars that provide an informative mix of storytelling, instruction…and even the occasional dash of pantomime.
Of course, every career has an origin story. For this one we travel back to the New York City of the 1970's, a metropolis that Vanity Fair writer James Wolcott characterized as Mogadishu on the Hudson during a 2009 retrospective article entitled, "Splendor in the Grit". The article portrays a city that was crumbling in anarchy, stricken by crime, and bound by omnipresent corruption, yet at the same time also punctuated by art and vibrancy – where the likes of Lennon, Warhol, and Garbo walked the streets. In the midst of this urban frisson, a young, up-and-coming photographer named Joe McNally began his career as a copyboy with the New York Daily News…
To learn more about Joe's work, click here.
To learn more about Syx's work, click here.
To learn more about the magazine, visit: http://www.nikonownermagazine.com/