THE STORY BEHIND THE IMAGE: MEMENTO MORI
Specters of The Glorious Dead ● 08/12/2017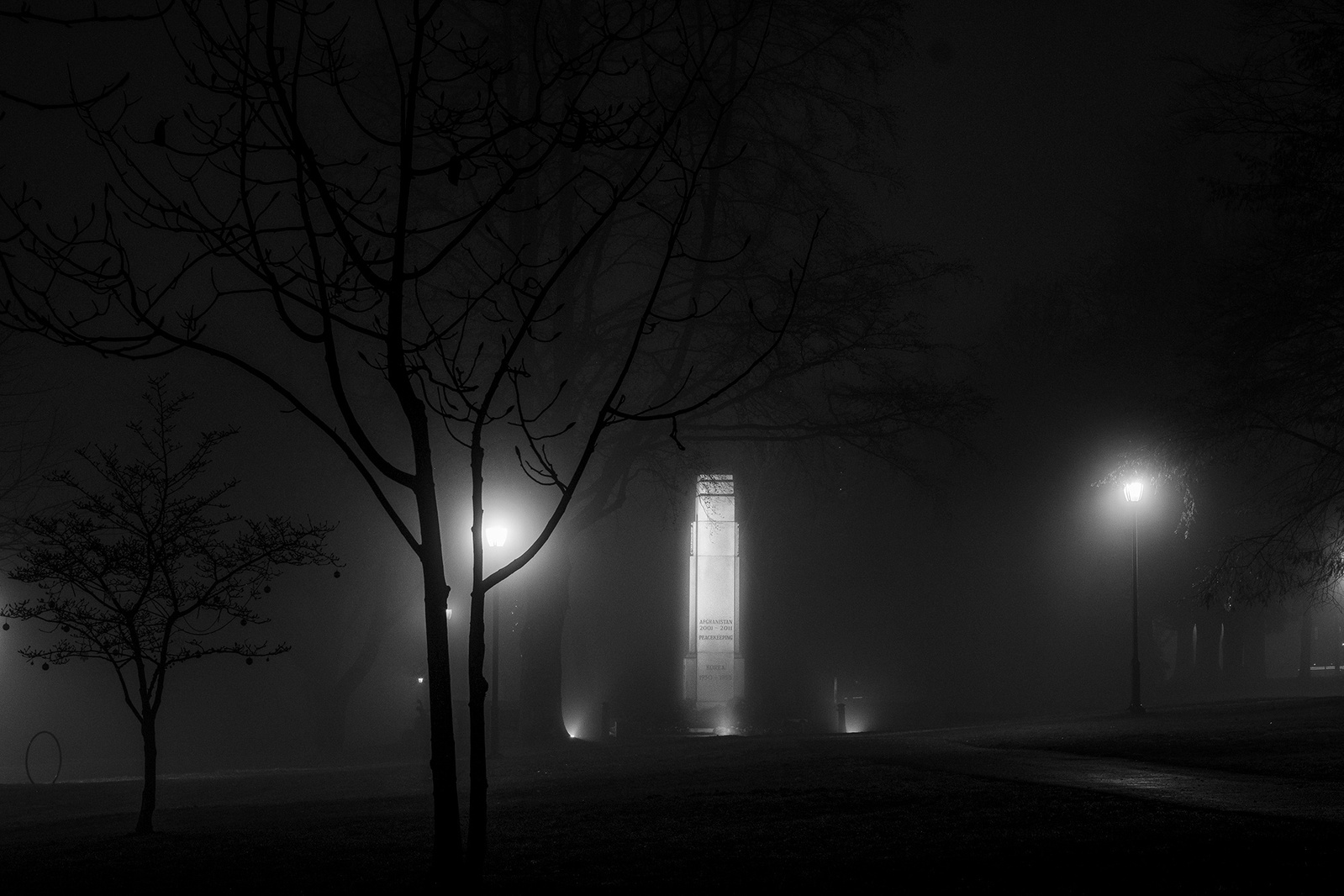 BY ROBERT FALCONER
It was a dark and foggy night…
At the center of my neighborhood park resides a cenotaph, a perfect subject to photograph when the mists descend to envelope both the edifice and its surroundings. Spectral light, further diffused by the fog—an ethereal atmosphere to honor the fallen. But spectral led to spectres, as it would turn out. Read on…
I was working the park, searching for angles and ways to juxtapose the monument, the trees, and, of course, the light. After nearly an hour, I decided to try one particular angle on the cenotaph itself, framing it within the dark arms of the large maple trees.
As I was setting up my shot, testing some frames, providence stepped in. A bus-load of passengers disembarked at the stop behind me, and slowly began walking around me and into frame. At first I thought, "Huh, guess I'll need to wait for them to clear frame." Then I looked at the words on the cenotaph once more: 'The Glorious Dead'. It took me all of two seconds to realize what I had in front of me. I checked my focus quickly, then rapidly squeezed the cable release down for a 15 second exposure @ f/11 using ISO 200.
The below result was mostly what I'd hoped for and gave the image a whole new impact.
The lesson here is that sometimes, if you're very lucky, perseverance and patience (aka sticking around and working the scene) are rewarded with serendipity. Take your time and explore all the avenues. Creatively "feel" your way through the making of a picture. Don't let yourself feel hurried.
The ghostly image above and the more "conventional" image below were all shot with the Fujifilm X-Pro2 using the Fujinon XF 50-140mm f/2.8 R LM OIS WR lens.
We've had a lot of fog in the Vancouver region over the past couple of days, and while location scouting two marinas to produce translights for a Disney/ABC television series, I made the other image below—shot on the Fujifilm X-Pro2 with the Zeiss Distagon T* 35mm f/1.4 ZM lens using Acros film simulation.